Boer War Letters of William Hamline Glasson (1875-1903) of Godolphin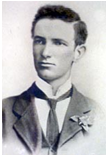 A cache of about 20 or so letters were found in the old Tool room of the stables during a cleanup in 1976 after WHG's nephew, Bruce Gordon had moved from the Godolphin homestead to "Cadira", another old home on the property. They were tied up in pink ribbon and stored inside an old biscuit box. Many were written in the field in what used to be called indelible pencil. It was a blue colour and was often hard to read as indeed were those written in ordinary graphite pencil. The originals are held by the Mitchell Library in Sydney but copies and a transcript are still held at Godolphin.
It appears that WHG went originally to South Africa not as part of a unit but to look after horses that were being shipped across as part of the war effort. Ham as he was known to the family subsequently joined up with the Bushveldt Carbineers, possibly because he already knew "Breaker" Morant from the days when the Breaker (presumably he was an expert horse breaker) lived at "Willow Cottage" at Byng next door to "Godolphin" where Ham was born and raised and where Ham's grandparents (Richard & Emma Glasson) lived initially, when they came to Australia.
Breaker Morant was previously well known as a poet, writer for the "Bulletin" (among other magazines), horseman, womaniser and one-time husband of Daisy Bates. He was unjustly executed, along with one trooper Peter Hancock from Bathurst for killing, among others, a missionary during the South African War. Lord Kitchener despite previously ordering summary executions of prisoners needed some scapegoats to justify this event and they were it. One hundred and ten years later the British Government still mysteriously refuses to pardon them of any crime. The incident is rather obliquely referred to in Hamline's letters when he speaks of the delay in the discharge from the unit, of his friend from Blayney, Stuart Leeds. Stuart was being called as a witness in the trial. Ham advised his parents "rest assured I have had nothing to do with any of this bad business". It is unclear if by "bad business" he meant the killings or Kitchener's hypocrisy. He certainly found the British Officers less than likable.
WHG was the second child of eighteen children of John Henry (1849-1921) and Catherine Hannah Glasson (1854 -1932) of Godolphin. He died on the 29th Nov 1903 of enteric fever after the war had finished. His quite elaborate grave is to be found in Pietermaritzberg South Africa. His sister Edith Gordon to whom he addressed many of the letters reportedly recalled that he was engaged to a South African girl there and intended to stay on after his service in the Bushveldt Carbineers.
Ham speaks of looking for souvenirs on the battlefield of Ladysmith. He suggests Edith might have some of the shells he found cut up and turned into serviette rings. It seems this is what she did and we still have one today with Edith's son Bruce's initials engraved on it.
Ham and the Breaker are still folk heroes around Godolphin.
Lord Kitchener is not welcome.